Sight Flow Indicator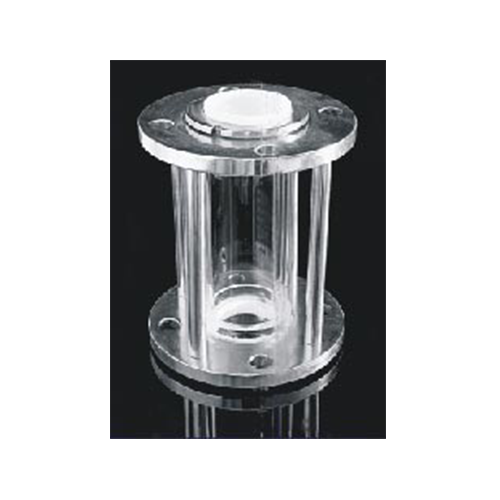 Sight Flow Indicator is used for viewing the fluid in pipelines. The sight flow indicator consists of a straight heavy wall glass tube It offers virtually no flow restrictions, complete visibility & negligible pressure drop. Available with flange connection, in sizes 25 DN to 150 DN.
A sight flow indicator basically consists of a small housing equipped with a glass window, which is inserted in a run of pipe to observe the flow of the fluid in the pipe
Sight Flow Indicators are available with special materials to meet various applications. Optional materials are available for the housings or flanges.
All contact parts are made of Borosilicate Glass & PTFE.
Standard Flange Drilling as per ANS116.5, ASA 150#. Other drilling Standard as per BS 10 Table D, E, and F is also available upon request.
Standard length of glass is 152 mm. Other length is available on request. Face to Face length of Sight Glass is 192mm.
Standard Material of construction of Housing Frame, Flanges & Studs is M.S Zinc plated. S.S 316, S.S.304 & P.P. can be supplied on request.
Suitable up to 2000C Temperature.